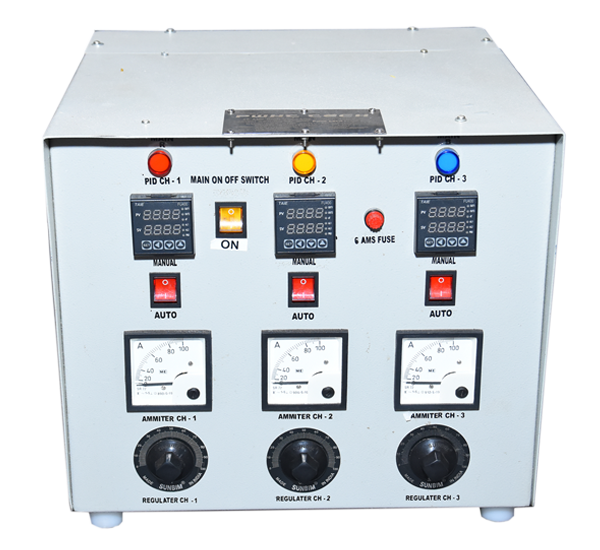 6 point auto manual Heat Treatment panel
Product Code :
PWHT-7006
6 point auto manual Heat Treatment panel
Heat treatment is a mixture of process connecting heating at a particular rate, soaking at a high temperature for a period of time and cooling at various particular rate. Heat treatment equipment's are been uses for the aircraft industry, automobile manufacturing, defence sectors, forging, foundry, heavy machinery and manufacturing, powder metal industries, steel industry, electronic industry, heat treatment equipment purpose is development in ductility, Relieving domestic stresses, Grain volume adjustment, Increase of power and resistance. It is the best for processing of a smallness thing mass-production article, and a hydrogen gas atmosphere maintenance heater is the use. Calculations of a stainless steel product, a copper alloy, a attractive material, and electronic products and measurement it can be use usually. It has had 30 kinds of normal machinery in stock for heat treatments of efficiency thing parts and small parts. Please decide with the reason of heat treatments, the excellence of the material, and a size.
With years of experience in this domain, we have carved a niche for ourselves as Exporter, Manufacturer, Distributor, Supplier, Trading Company of Automatic Heat Control Panel in Chennai, Tamil Nadu, India. This control panel is designed using high-quality material in compliance with industry laid norms and guidelines. Offered control panel is applauded by our valued patrons for their superior finish. Also, patrons can avail this control panel in various options 3 channels, 6 channels with PID controller. Available in various Ampere 30/60/100 A.
PWHT Solutions Heat treatment panel boxes are designed and manufactured by our own team to use either in a workshop or in site.
It looks simple and easy to handle or to mobilize. So that a single person can able to move panel easily.
Panel operates in 3phase supply and have six outputs. It has automatic system and also manual operating systems, it can be used in both methods. Automatic system is controlled by FUJI PID.
Phase Three Phase
Usage Motor Control, PLC Automation, Generator
Model Number: PWHT-7006
Type Control Panel Automatic Grade Automatic
Material ABC Model: 3 Channels, 6 Channels Current: 30/60/100 A
Voltage: 230 V

Select quantity