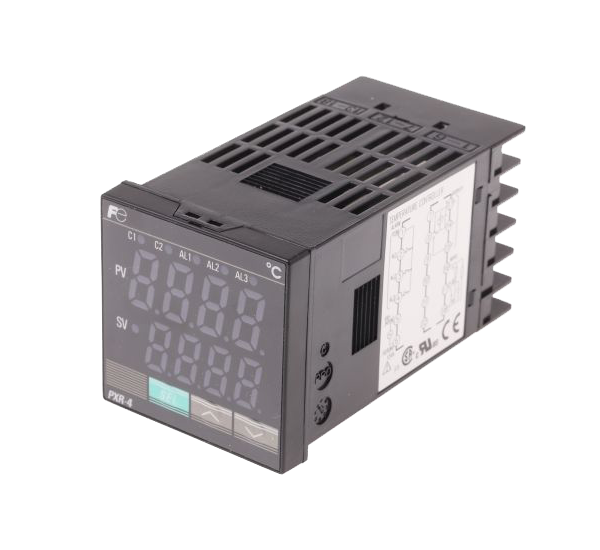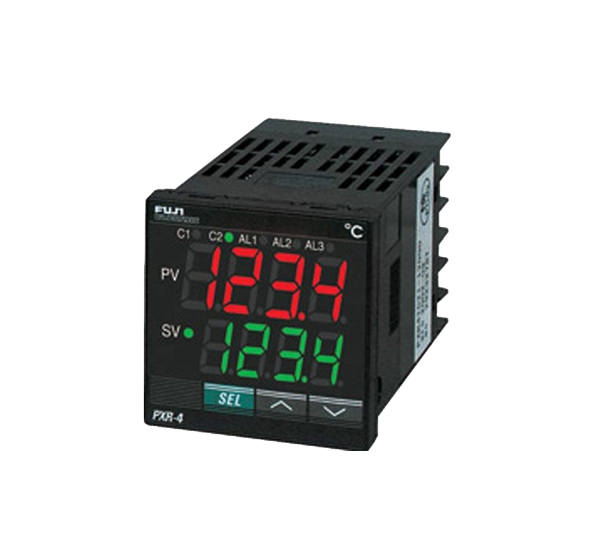 FUJI PXR4 PID Controller
Product Code :
PWHT-7048
FUJI PXR4 PID Controller
The PXR4 is a 1/16 DIN (48mm x 48mm) is our most popular controller. It is compact, easy to use and with a large and bright LED display.
In addition to auto-tuning and fuzzy control, Fuji PXR4 temperature controllers now come with self-tuning - an innovation in the control field. Self-tuning automatically re-tunes the controller under certain conditions, without the need to revert to auto-tuning.
Features:
Competitive price
Delivery Ex-stock for most variations
Input types, thermocouple, RTD, 1-5Vdc and 4-20mA
Output types, relay contact, SSR/SSC and 4-20mA
On/off control, PID with auto-tune & Fuzzy control as standard
Fuzzy control eliminates overshoot & reduces external disturbance
Sixteen types of alarm with one or two relay contact outputs
Setpoint ramping, dual PID heating/cooling and heater break alarm
Power supply 24Vdc, 24Vac or 100-240Vac
Weatherproof front panel IP66
The PXR4 accepts any probe type as an input (thermocouple, RTD, 1-5Vdc and 4-20mA need to be specified prior to delivery) and can control any type of device with 6 types of output available (relay contact, SSR/SSC, 1-5V 0-10V and 4-20mA).
It is simple enough to be used for basic "ON/OFF" applications with minimum set-up thanks to the auto-tuning feature.
The Fuji PXR temperature controller accepts process and temperature inputs and offers a choice of three kinds of outputs to meet a wide variety of needs in the process industries. Single or dual outputs include relay, SSR driver, or 4-20mA.

Power voltage: 100 (- 15%) to 240V AC (+10%), 50/60Hz
Power consumption: 15V AC or less/240V AC
Relay contact output: Control output 1: SPDT contact, 220V AC / 30V DC 3A (resistive load)
Control output 2: SPST contact, 220V AC / 30V DC 3A (resistive load)
SSR/SSC driving output: ON: 24V DC (17 to 25V DC)
(voltage pulse output) OFF: 0.5V DC or less
Maximum current: 20mA or less
Resistive load 850Ω or more
4-20mA DC output: Allowable load resistor 600Ω or less
Alarm output (up to 2 outputs): Relay contact (SPST contact) 220V AC / 30V DC 1A (resistive load)
Heater disconnection alarm output: Relay contact (SPST contact) 220V AC / 30V DC 1A (resistive load)
Communication function : RS-485 Modbus interface
Transmission system: Half-dueplex bit serial start-stop synchronization
Transmission rate: 9600bps
Transmission protocol: In conformity to Modbus RTU
Transmission distance: Up to 500m (total length)
Connectable units: Up to 31units
Digital input: Number of input-1 input
Input contact capacity - 5V, 2mA DC
Ambient temperature: -10 to 50°C
-10 to 45°C (when side by side mounting)
Operating ambient humidity: 90%RH or less (no condensation)
Preservation temperature: -20 to 60°C

Select quantity