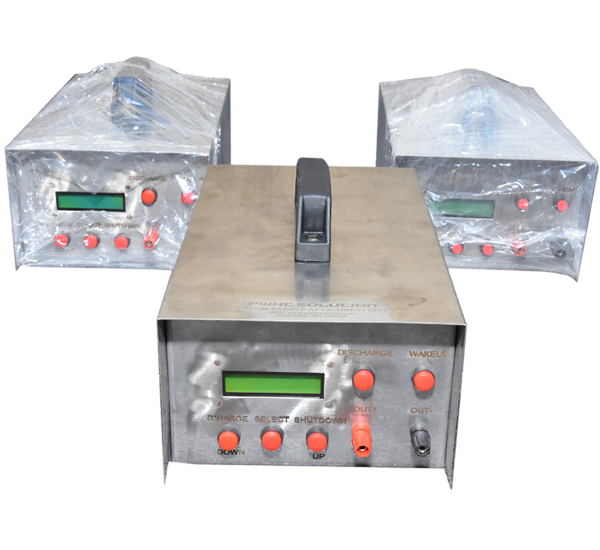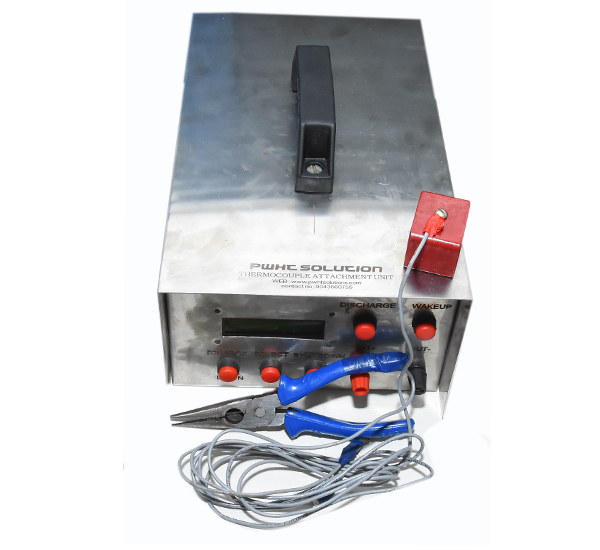 Automatic Thermocouple Attachment Unit Battery Type
Product Code :
PWHT-7049
Automatic Thermocouple Attachment Unit Battery Type
Thermocouple Attachment Unit (TAU) enables direct attachment of thermocouples to a work piece using the capacitive discharge method.
Thermocouple attachment unit used to attach the thermocouple elements to the Job / Work piece, used for heat treatment applications, Preheating and PWHT is renowned for its reliability, safety, compactability, quality engineering and cost effectiveness. Our products are designed with a field experience of more than 30 years to make it idle for the heat treatment solutions. This product is suitable for the ONSITE regular heat treatment and Shutdown maintenance sites for PREHEAT and POST WELD heat treatment applications.
PWHTTECH Thermocouple Attachment Unit helps eliminate the risk of expensive rework by enabling accurate temperature control and recording, and reducing the risk of thermocouples breaking off¬ during the heat treatment process. This can also be used to attach thermocouples for many other temperature monitoring applications that require reliable temperature measurement. Thermocouple Attachment Units require only one hand to operate which can be an important safety feature when working at elevated levels or inaccessible locations. Our Thermocouple Attachment Unit Direct attachment of thermocouples to the work-piece by the 'capacitive discharge method', has long been established as the preferred industry standard method of attaining accurate temperature measurement of the work-piece being heat-treated or monitored. Thermocouple Attachment Unit utilises this method to attach various gauges of thermocouple wire to the work piece.
Battery or mains operated.
Use with 230 V battery recharging supplies.

Model Number: PWHT-7049
Battery Voltage: 230 Volts
Battery Capacity: 12V
Thermocouple Diameters: 0.5, 1 & 2mm selectable
Battery Monitor: Monitoring LED and Automatic Full Discharge Protection
Number of Discharges: Approximately 3000 on setting 2 at a rate of 200 discharges per day with fully charged battery.
Length: 225mm
Width 145mm
Height: 210mm
Weight: 3.5kgs

Select quantity