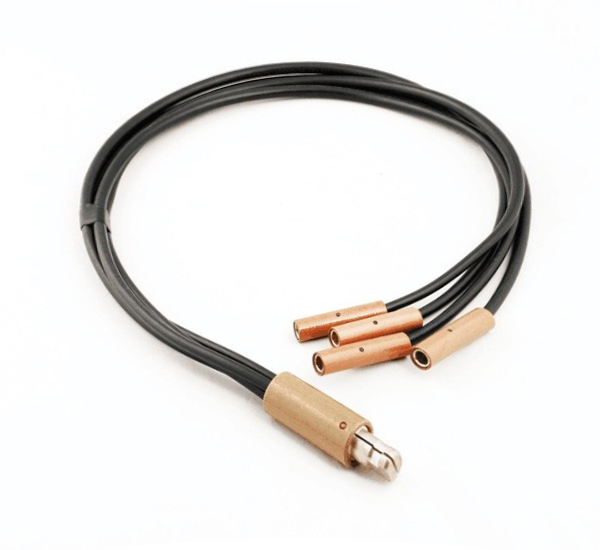 4-way Splitter Cable
Product Code :
PWHT-7033
4-way Splitter Cable

Used to connect 4 heating elements in parallel to Triple Cable Sets and allow for the control of multiple heating elements from one single control output.
This allows for accurate zonal temperature control.
Measuring 1m in length, this splitter cable has 1 x 300A Brass Connector Plug (Male Camlock) Complete Set and 4 x 60A Brass Connector Socket (Female Camlock) Complete Set.
A typical electrical resistance heating circuit consists of:
A triple cable set to bring power and thermocouple cabling from the power source to the heaters.
A splitter cable to connect multiple heaters in parallel in the same zone circuit.
Features and Benefits:
Splitter cables are used for connecting heaters in parallel, two-way, three-way and four-way splitters are also available.
Triple cable sets consist of a taped assembly of twin power cables and a thermocouple extension cable.
Standard cable lengths are 25, 50 or 100 feet but are also available in custom sizes.
All cable assemblies are built using multi-stranded flexible power cable covered with a thermoplastic rubber insulation that is resistant to abrasion, oil, acid, ultraviolet light and high temperatures.
Cables and connectors are available individually to build custom assemblies for specific customer needs and applications.
Cable Length: 1000mm (1m)
Total Length including Brass Connectors: 1,080mm
Weight: 1.6kg
Materials:
4 x 1m Length - 25mm² Heater Distribution Cable (double insulated),
1 x 300A Brass Connector Plug (Male Camlock) Complete Set),
4 x 60A Brass Connector Socket (Female Camlock) Complete Set)
Wire Diameter: 25mm²

Select quantity