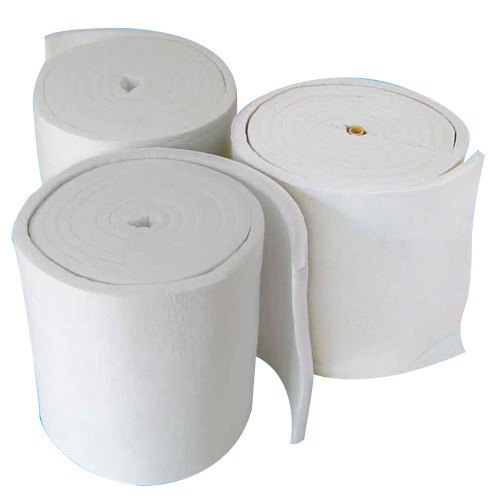 Ceramic Fibre Blanket
Product Code :
PWHT-7052
Ceramic Fibre Blanket
Supercera Blanket is a refractory fibre needled mat made without binder from Supercera fibres the only super-spun double needled fibre in the country today. Supercera RTZ and HTZ Blankets are zirconoca stabilized and are suitable or use upto 1260°c and 1425°c respectively.
Both blankets have excellent resistance to most chemicals. If wet by oil or water, thermal and physical properties are fully restored upon drying.
Excellent Thermal Stability.
Low Shrinkage at elevated temperature - due to their excellent Thermal Stability.
Low Heat Storage Both blanket store approximately
95% less heat than dense firebrick and approximately
75% less heat than insulating firebrick a property of significant importance in the operation of periodic kilns / furnaces.
Good Cold strength.
Excellent Hot strength.
Thermal stock Resistance due to the flexible matrix of Supercera, extreme temperature change do not alter its ability to physically stay in place and perform at higher levels.
The products are not wetted by molten non-ferrous metals. If wet by oil, water or steam, Thermal and physical properties will be fully resorted after burn out or drying.
Applications
Normalising Annealing furnaces and glass lehrs.
Reformers & Ducts in petrochemical, fertiliser and Boiler Linings Industry
Fexible high temperature pipe insulation.
Low velocity HRSG and stack linings
Glass Furnace crown insulations
Trundish cover, Transfer cars in steel plants Soaking pit seals and expansion joint
Kilns, klin cars for ceramic industry
Annealing cover bottom seals
Reusable insulation blankets for field stress relieving of welds
Removable Insulation blankets for steam and gas turbines and fire protection.
Insulation wrap on investment casting moulds
Furnace door seals, linings and gaskets
Temporary repair of refractory furnace linings and roofs
High temperature filter media / gaskets
High temperature sound absorption and Nuclear Insulation applications.

Density (kg/m3): 64, 96, 128
Thickness (mm): 6, 12, 20, 25, 50
Roll Dimension: 7620 mm x 610mm
Other sizes available on request.
They conform to IS: 15402-03 & ASTM C 892-00

Select quantity